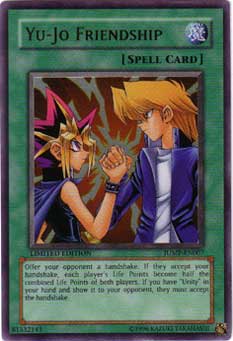 Yu-Jyo means "friendship"
Recent Updates
6/10/06
Added Episode 223, "The Final Duel, Part 3" and Cards used in Episode 223.

Only one more to go! Since some people have been asking, once I've done Episode 224, I plan to go back and continue updating the older episodes and adding the Cards used in the rest of Seasons 1 - 3.

I'm still waiting to see if Japanese versions of Capsule Monsters turn up before I decide whether to add that series to the Episode Guide. Probably not before fall, anyway. I might also add the Pyramid of Light movie at some point, but not right away.

As for GX, I have no plans to add it to the site. I don't hate it, but I don't like it well enough to spend the 10 - 12 hours per episode on it that it takes to do the detailed summary and comparison, with screencaps and cards used.

But I will continue working on the website! I hope you'll continue to visit.
<< Previous 1 2 3 4 5 6 7 8 9 10 11 12 13 14 15 16 17 18 19 20 21 22 23 24 25 Next >>
Launched 4/25/03
Web site design and text copyright 2003–2006