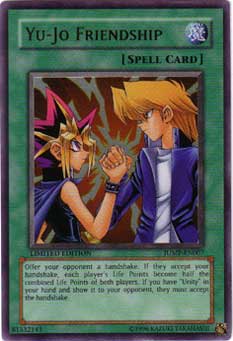 Yu-Jyo means "friendship"
Recent Updates
5/20/06
Okay, I decided to add Cards used in Episode 220 after all, listing the cards seen in Kaiba's briefcase and on the table while Yugi is building his deck. I wasn't able to identify them all, so if anyone can tell me the names of the cards I'm missing, let me know and I'll add them.
5/10/06
Press release from 4Kids:

4KIDS HOME VIDEO PRESENTS
A ONE-TIME-ONLY PREVIEW OF THE NEW DVD
YU-GI-OH! ™ CAPSULE MONSTERS™ LIVE AT YUGIOH.COM
MONDAY, MAY 22, 2006 7:00 p.m. ET / 4:00 p.m. PT

This Exclusive Streaming Event Celebrates YU-GI-OH! ™ CAPSULE MONSTERS™
Direct-To-DVD Release On Tuesday, May 23, 2006 Read More ...
<< Previous 1 2 3 4 5 6 7 8 9 10 11 12 13 14 15 16 17 18 19 20 21 22 23 24 25 Next >>
Launched 4/25/03
Web site design and text copyright 2003–2006