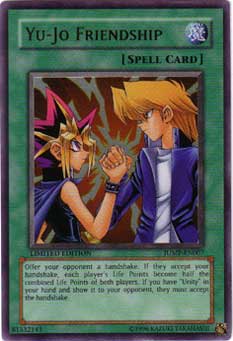 Yu-Jyo means "friendship"
Recent Updates
4/19/06
This news release came today from 4Kids about the Yu-Gi-Oh! Capsule Monsters DVDs:

NEW YORK (April 19, 2006) – 4Kids Entertainment Home Video, Inc., the home video unit of 4Kids Entertainment, Inc. (NYSE: KDE), in association with FUNimation Entertainment, has set a May 23, 2006 street date for Yu-Gi-Oh! Capsule Monsters, the first of two all-new, direct-to-DVD Capsule Monster films to be released this year. Read More ...
<< Previous 1 2 3 4 5 6 7 8 9 10 11 12 13 14 15 16 17 18 19 20 21 22 23 24 25 Next >>
Launched 4/25/03
Web site design and text copyright 2003–2006