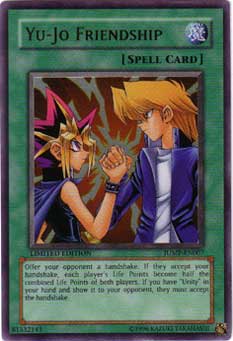 Yu-Jyo means "friendship"
Recent Updates
3/12/06
As a followup to my comment about Yu-Gi-Oh! Capsule Monsters in the last update, here's a link to the Anime News Network article and discussion about it, which is pretty much all I know so far.

I've updated Episode 30, "Duel Identity, Part 2" and added Cards used in Episode 30.

The Yugi vs Mai Duelist Kingdom duel was heavily rewritten for the US dub. When I first wrote up these episodes, I had a hard time cataloging all the changes, because the subtitles on the Hong Kong DVDs were so incomprehensible. This time around, my Japanese has improved quite a bit, and I also have the manga version of this duel to refer to, so I've been able to make extensive revisions in Episodes 29 & 30.
3/8/06
I've revised Episode 29, "Duel Identity, Part 1" and added Cards used in Episode 29.

I will continue to update the older episodes until they start showing new episodes again, which I imagine will be in a few weeks. There are 11 episodes left in the series, and, since the TV season ends in May, they will probably be shown sometime in April and May.

Also, for those of you who've been asking, I will most likely add the new Yu-Gi-Oh! Capsule Monsters series to the Episode Guide, after it's been shown or released on DVD in the US, and after I've gotten hold of Japanese versions of the episodes, if I can get them. It will probably be at least a few months before this happens.
<< Previous 1 2 3 4 5 6 7 8 9 10 11 12 13 14 15 16 17 18 19 20 21 22 23 24 25 Next >>
Launched 4/25/03
Web site design and text copyright 2003–2006