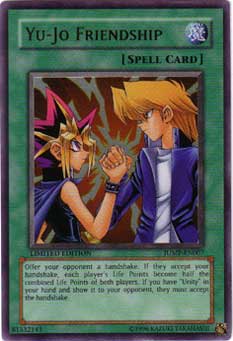 Yu-Jyo means "friendship"
Recent Updates
11/30/07
Well, it's been a long time since I've updated! Over a year....

I meant to take a break of about a month after the series ended last year. Then the month turned into months and months, while all sorts of real-life stuff happened. But now I'm back!

The first thing I had to do before resuming updating the web site was to hunt down spoilers for all the new cards that have been released since I stopped keeping track. There have been a lot of new cards in the past year and a half! Then, I went through the card gallery and updated it with the new releases. I think I've caught them all, but if you notice any I've missed, please let me know! It might take me a year or so to get around to fixing it (kidding! I hope), but I'll check it out as soon as I can.

Now I'm ready to pick up where I left off, revising the earlier episode comparisons and adding cards used in each episode to the card gallery.

Thanks for continuing to visit the Episode Guide!
8/10/06
Since the "Yu-Jo Friendship" card has been released in English, I thought I'd add a scan of it to the front page. Don't blame me because they spelled "Yu-Jyo" differently!

I've also updated the links in the Manga and Edited DVDs sections of the Store.

That's all for now, but I haven't given up on adding cards to the card list, I've just been crazy busy lately. Look for Episode 37 updates soon.
<< Previous 1 2 3 4 5 6 7 8 9 10 11 12 13 14 15 16 17 18 19 20 21 22 23 24 25 Next >>
Launched 4/25/03
Web site design and text copyright 2003–2006