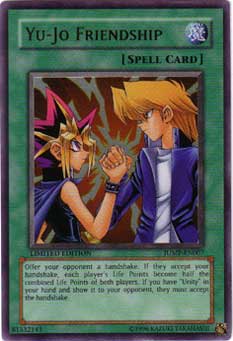 Yu-Jyo means "friendship"
Recent Updates
7/7/05
The new site is up. Everything should be working okay, but if you find any problems, please let me know!
6/30/05
This Site is Moving!

I am in the process of moving this website to a new host. Once the site is moved, it will be accessible only at:



www.yu-jyo.net



This address is already in operation, so if you're using the www.ratandfox.net/YuGiOh address, please change your bookmarks now.

There will be no updates while the move is in progress. If all goes well, it should only take a week or so. Wish me luck!
<< Previous 1 2 3 4 5 6 7 8 9 10 11 12 13 14 15 16 17 18 19 20 21 22 23 24 25 Next >>
Launched 4/25/03
Web site design and text copyright 2003–2006