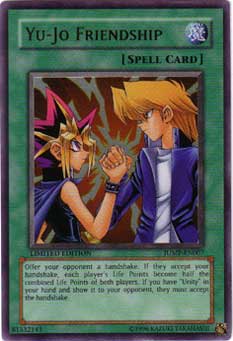 Yu-Jyo means "friendship"
Recent Updates
9/3/05
Added Episode 186, "Unwanted Guest, Part 2" and Cards used in Episode 186.

I've also added a button on the sidebar which can be used to make a donation to the Red Cross. I have made it a practice not to put any kind of ads or banners on the front page of my site, but in this case I thought it was worth making an exception.
8/30/05
At last! New episodes to add It's been so long, I've almost forgotten how to do it...

This season, I'm going to add the cards used in each episode as I add the episodes. I'll continue revising/adding cards for the older episodes as I have time, but as long as they're showing two new episodes a week, I'll probably only have time to do the new ones.

Also, people have been asking me about the rumors that the Ancient Egypt arc won't be shown in the US. First of all, I'm not in any way connected with KidsWB, 4Kids, FUNimation, or any other company involved in producing the dub Yu-Gi-Oh! episodes, so I have no official information one way or the other. All I can say is, I don't pay attention to rumors. Unless I see something from an official source that says otherwise, I'm going to assume that the entire series will be shown.

Added Episode 185, "Unwanted Guest, Part 1" and Cards used in Episode 185.
<< Previous 1 2 3 4 5 6 7 8 9 10 11 12 13 14 15 16 17 18 19 20 21 22 23 24 25 Next >>
Launched 4/25/03
Web site design and text copyright 2003–2006