Episode 22: Face Off - Part I (The Destined Duel! Yugi vs Kaiba)
In the dungeon, Pegasus asks Kaiba whether he cares enough about his brother's life to try to save his soul. Pegasus holds up the card in which he's imprisoned Mokuba's soul, saying how lifelike Mokuba looks in it—but Kaiba probably preferred him in the flesh. "You're not human!" Kaiba growls. (Japanese Pegasus says that if Kaiba doesn't beat Yugi, he won't be able to challenge Pegasus, and Mokuba's soul will never be released. Kaiba says, "Pegasus, kisama!" which literally means, "Pegasus, you!" But it's a not-terribly-polite form of "you.") Pegasus tosses five Star Chips towards Kaiba, saying that Kaiba will need them for his duel with Yugi. They clatter to the floor at Kaiba's feet. Kaiba asks him why he's doing this, but Pegasus says his reasons are none of Kaiba's concern. Untying his string tie, Pegasus pulls the strings back and forth, saying maybe he just enjoys watching the constant tug of war between Kaiba and Yugi. Or maybe he wants something Kaiba's incapable of comprehending. Retying his tie, he says it's something Kaiba will deliver to him all tied up in a bow.
Twitching with anger, Kaiba demands that Pegasus talk straight. What does he want? Pegasus says he wants to see if Kaiba's capable of defeating Yugi in a duel. Only if Kaiba succeeds will he get the opportunity to duel Pegasus. If he beats Pegasus, Pegasus promises to restore Mokuba's soul.
For now, Kaiba admits that he has no choice but to play Pegasus' game. But as soon as he beats Yugi he'll be back. He warns Pegasus that he'd better make good on his promise to restore Mokuba. Pegasus just laughs at Kaiba's threats.
Meanwhile, the gang emerge from the tunnels at last. Joey flings out his arms, celebrating reaching fresh air. Then Bakura holds up his Millennium Ring. One of the pointers is pointing Téa says it's pointing to Pegasus' castle. A long stone stairway leads to the top of the hill where the castle stands. That's right where they're headed, Joey says. He and Yugi both have enough Star Chips to get in.
Téa looks at Yugi, thinking that it finally all paid off for him. Sometimes he seems so gentle, you wouldn't think he could challenge another duelist. But when he duels, he seems like someone else—a more confident and determined Yugi. It's almost as if there are two Yugis! She remembers the duel with Bakura in the Shadow Realm, with the big Yugi playing, and little Yugi on the field with the rest of them. (The flashback is changed somewhat in the US version, but basically shows the same thing.) Yugi looks up from examining the Star Chips on his dueling glove to ask her if something's wrong. Téa shakes her head, starting to ask Yugi if he ever feels like.... But then Tristan calls out to them from halfway up the steps to the castle, telling them to hurry up or he and Bakura will go inside without them. Bakura points out that since neither he nor Tristan is supposed to be there, maybe they should wait for Yugi. Tristan laughs, saying Bakura has a good point.
Saying to his Grandpa that here he comes, Yugi starts to run towards the stairway, trips over a rock, and falls flat on his face. Téa asks if this is how he's going to rescue his Grandpa, and he reminds her that he has rescued her.
Téa recalls that he did. Back then, she remembers, she barely even knew him. (In the Japanese flashback, there's a big sign over the restaurant that reads, "Burger World.")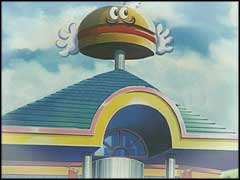 In flashback, she welcomes a couple of customers to Burgerpalooza, but is horrified to see that it's Joey and Yugi. What are they doing there? They could get her in big trouble—she's supposed to be 18 to work there. If Joey and Yugi let it slip that she's still in school, she'll be fired, and won't be able to pay for her dance lessons. (Japanese Anzu thinks that their high school doesn't allow students to work, and she's in trouble now that "big mouth Jounouchi" has seen her.)
Sitting in one of the restaurant's booths, Joey says they should try to get to know Téa better. She seems really nice. Yugi agrees that she's very kind and hardly ever loses her temper. (Japanese Jounouchi jokes about having caught Anzu working, and Yugi worriedly tells him to cut out out, he thinks Anzu is angry.) Téa slams the tray with their burgers down on their table, angrily asking if they're trying to get her fired, and drowns their burgers in ketchup. Yugi says they didn't even know she was working there, and Joey says she's got a lot of attitude for someone waiting tables. She says this isn't all she wants to do—when she graduates, she wants to study ballet. She's saving up to go study dance in New York. She's surprised when they don't laugh. Wiping the ketchup off his face, Joey tells her she ought to be what she wants to be, and Yugi agrees, telling her to follow her dreams.
At school later, she finds a note from Yugi and Joey in her locker, telling her they found a space in an old warehouse she could use for a dance studio, and asking her to meet them there after school. (In the Japanese, it's an anonymous note telling her to go to the gym after school, and threatening to reveal her secret if she doesn't show.)
(The note is written on the back of an incriminating photo of her in her Burger World uniform, rather than the innocuous pair of ballet shoes shown in the US version.)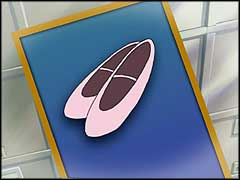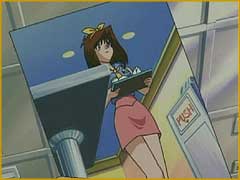 But when she gets to the warehouse, Yugi and Joey aren't there. Then the door closes behind her. (Japanese Anzu calls out to Yugi and Jounouchi as she arrives, thinking they are playing tricks on her. But the man who sent the note turns out to be a pervert with a video camera. Cut from the US version is this bit where the guy tells Anzu to keep quiet. As he videotapes close-ups of various parts of Anzu's, er, uniform, he tells her she'll be expelled from school if they find out she's working, so she'd better listen to him. She asks if he thinks she'll forget about what he's doing.)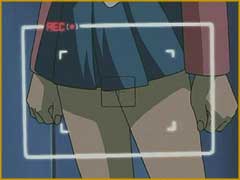 A mugger comes into the warehouse behind her, telling her to give him all her money. (The Japanese pervert tells her she hasn't got any right to punish him. The video camera is removed from the shot of the mugger/pervert.)
Téa's backed up against he wall, with the mugger getting closer and closer, when Yugi bursts through the door and tries to tackle the guy, but ends up dangling ineffectually from the mugger's waist. The guy tosses him aside, and he flies into a stack of pallets. Téa goes for the mugger, biting his arm, and he knocks her against a wall. She sinks to the floor, out cold. The Millennium Puzzle activates. (Cut from the US version are more shots of Anzu's attacker videotaping her.)
Yami Yugi comes out, challenging the mugger to a game of high card draw. If the mugger wins, he goes free, but if he loses, Yami will decide his fate. (Japanese Yami says that the loser will go to the Dark World.) The mugger draws Curse of Dragon from Yami's deck and laughs, telling Yami to beat this card. With his eyes closed, Yami draws Dark Magician, and wins. The mugger doesn't care, though, and starts to attack Yami, who Mind Crushes him. Téa comes to with Yami standing over her, telling her she won't have to worry about that guy any more.
Back in the present, Téa looks wonderingly at Yugi. (Anzu's expression is more worried-looking in the Japanese version.)
Yugi is still sitting on the ground, rubbing his head. He repeats his question, asking Téa if she remembers. She squats down beside him, saying she remembers, and asks Yugi what he did to that guy that day. (Japanese Yugi doesn't say anything. Anzu asks if he remembers saving her that day in the gym.) Yugi doesn't remember. When he came to, he says, that mugger was already on the ground. Téa tells Yugi he's a mysterious guy, and asks if he ever feels that something weird is going on. Sometimes he seems like a completely different person. Yugi says he knows what she means. Sometimes he feels like there's someone else inside of him. He hopes he's not losing it. Téa says that whatever's going on, both Yugis are good guys. (Japanese Anzu says it seems that there are two Yugis. One is smart but a little frightening, the other is gentle, but not so powerful. Yugi says that sometimes he feels the presence of another self. Anzu stands up, saying it doesn't matter. "Yugi is Yugi.")
Joey and Tristan call down to them again, asking if they need to carry them up! Téa gives Yugi a hand up, and they head off to join the others.
But when they approach the top of the steps, they see Kaiba blocking their way. He tells Yugi he can't let him pass. Yugi protests that he's won ten Star Chips (Japanese Yugi asks Kaiba what's going on), but Kaiba says he can't allow Yugi to face Pegasus. Pegasus is his. He and Yugi are going to have one final duel, and he is going to win. (Japanese Kaiba says it's his fate to stand in Yugi's path. Whenever they fight, the winds of battle will blow.)
Kaiba thinks that Pegasus might be forcing him to fight Yugi, but it's a rematch he's wanted all along. The gang come a little further up the steps, and Yugi tells Kaiba to step aside, but Kaiba says, not until Yugi agrees to duel him. Yugi says he's not dueling Kaiba—he doesn't have to. Kaiba suggests that Yugi's no longer confident that the Heart of the Cards will help him win. Or is Yugi afraid that he can't beat Kaiba without Exodia?
Téa tells Kaiba to back off—Yugi doesn't have to prove anything. Joey says he'll take Kaiba on, but Kaiba just laughs. Bakura and Tristan have to hold Joey back from going after Kaiba, until Bakura reminds Joey that when he dueled Kaiba before, Kaiba slaughtered him.
Then Kaiba notices Joey's dueling glove with its ten Star Chips. He can't believe Joey already has ten Star Chips. He asks if Joey earned them himself, or did Yugi throw him a few bones. (Japanese Kaiba says he'll promote Jounouchi from makeinu [loser] to uma no hone [literally "horse bone," the expression means a nobody, a Joe Blow].) Joey growls, while Bakura and Tristan continue to hold him back. Kaiba laughs that there's no challenge in defeating Joey again. There's only one player that's ever beaten him at Duel Monsters, and that's Yugi. But, he continues to himself, how Yugi did it is still a mystery. (Japanese Kaiba says that ever since his duel with Yugi, he's spent most of his time searching for the answer. Why did he lose to Yugi? How did Yugi call forth a miracle?)
As he recalls their duel, he thinks that he was winning—his Blue-Eyes White Dragon was devastating Yugi's forces. Then he drew his second Blue-Eyes! Yugi thought that his Dark Magician could stop him, but he never dreamed Kaiba would draw his third Blue-Eyes, and blew Yugi's Magician away. But then, just as he was on the verge of defeat, Yugi drew the unstoppable Exodia. Yugi somehow accomplished the impossible—he assembled all five pieces of Exodia, and defeated Kaiba. (This flashback to their previous duel is added to the US version.)
Kaiba reminds Yugi that he said he won by tapping into the "Heart of the Cards." For a long time, Kaiba says, he didn't know what that meant, but now he thinks he does. (Japanese Kaiba says that although he learned it a bit late, now he knows that Yugi posesses something he doesn't.) He pulls the locket out of his shirt and looks at the photo of Mokuba, saying that Pegasus gave him a reason to put his heart in the cards. To himself, he vows to help Mokuba. Not a power on earth will stop him—not Pegasus, and not Yugi. (Japanese Kaiba wonders to himself whether a person can be strong when he is protecting someone. He must find the answer, and the only way is to duel Yugi again.) Eyes ablaze, he tells Yugi that, for the first time, he can duel with fire and passion in his heart. Yugi says he can feel it. Kaiba has changed. He's fighting for more than just himself this time. (Japanese Kaiba tells Yugi that if he wants to enter the castle, he must duel him. It's their destined duel. Yugi thinks that Kaiba is different now. Something is hidden in his gaze.)
Bakura and Téa warn Yugi not to accept the duel. He's already earned enough Star Chips to get into the castle. Kaiba says he's changed, and he deserves a rematch. Yugi thinks that, after all his Grandpa has taught him, he can't deny the Heart of the Cards. (Japanese Kaiba says that Yugi must understand. Their duelist's blood has destined this duel. Yugi thinks, "Duelist's blood?") Yugi switches with Yami, the Eye glowing in his forehead. (The whole Yami-coming-out sequence is, as before, added back to the US version.) Téa stares at him in wonder, thinking that it's happened again. Yugi seems different.
Yugi accepts Kaiba's challenge, telling him to name the place. Kaiba says their dueling field has been prepared, and tells Yugi to follow him.
Yugi and Kaiba face each other at either end of an open area atop the castle wall. The gang stand on the sidelines to watch. It's time to duel. (The overhead shot of the duel is replaced in the US version with a pan down the side of the castle below the duel.)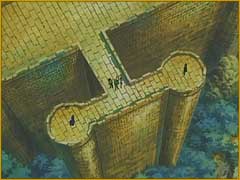 Meanwhile, Bandit Keith arrives at the castle to enter the finals. Kemo, who's guarding the door, advises Keith to check out the action on the annex roof first.
Kaiba wagers five Star Chips, saying that whoever wins will be the only one to enter the castle. Yugi agrees, throwing down his five Star Chips. Kaiba also says they'll use his Duel Disks for their battle, and shows Yugi how to insert his deck into the card recognizer. They each start with 2000 life points.
Joey and the others cheer Yugi on, telling him that he beat Kaiba once, and he can do it again. Meanwhile, Bandit Keith arrives across from the duel on another tower, startled to see that it's those punks he trapped underground. How did they get out? Then he recognizes Kaiba, and realizes that it's a rematch between Kaiba and Yugi. This he's got to see.
After some preliminary pawing of the ground, Kaiba begins by summoning Ryu-Kishin (the monster is actually Ryu-Kishin Powered; Japanese name Gargoyle Powered) (1600 ATK). Holograms of his other four cards, Blue-Eyes White Dragon, Ancient Lamp, Saggi the Dark Clown, and Battle Ox, rise up in a semicircle before him.
Yugi responds by summoning Curse of Dragon (2000 ATK). Kaiba laughs, telling Yugi it was well-played. Yugi tells Kaiba not to patronize him, but Kaiba says he knows Yugi's a talented duelist. He's just not as good as Kaiba. (Japanese Kaiba tells Yugi that although they're enemies, they have the same purpose—to defeat Pegasus. If Yugi really wants to see Pegasus beaten, he must lose this duel, because he won't be able to beat Pegasus.)
(Cut from the US version is this bit where Kaiba thinks that Pegasus duels by reading his opponents' intentions. He doesn't know how Pegasus does it, but he thinks that by using the Duel Disks, he'll be able to keep the holograms of the cards between them, hiding his face so that Pegasus won't be able to read him.)
(Meanwhile, Yugi is thinking that Kaiba doesn't understand that Pegasus' power is in his Millennium Eye, and the Duel Disks won't help him in a Dark Game.)
(Also, it's not explained in either version of the anime, but in the manga, Kaiba explains that the Duel Disks are now operating in "expert mode." The rules are a little different from the usual game of Duel Monsters. Each player always has five cards in play. His main monster card is placed face up in the center of the Duel Disk, while his other four cards are placed face down around the sides. These side cards are considered "set" on the field, and can be activated during the duel.)
Yugi attacks with Curse of Dragon, and Ryu-Kishin is destroyed, bringing Kaiba down to 1600 life points. (Yugi's other cards are Multiply, Monster Replace [Shift], Dark Magician, and The Eye of Truth.)
Kaiba says he expected that attack. Yugi's so predictable, he played right into Kaiba's hands. Joey says Kaiba's bluffing, and cheers Yugi on. Kaiba draws, then plays Swordstalker (2000 ATK), whose attack is raised 20%, to 2400 points, by the monster in Kaiba's graveyard. Yugi realizes that this is why Kaiba let Ryu-Kishin be defeated so easily—so he could use it to create an even stronger monster. Now Swordstalker is more powerful than Curse of Dragon.
Kaiba attacks Curse of Dragon with Swordstalker. But Yugi plays the magic card Monster Replace, which exchanges his monster on the field with the monster in his hand that has the highest attack power. Curse of Dragon returns to his hand, and Dark Magician appears on the field, destroying Swordstalker. Kaiba loses another 100 life points, taking him down to 1500. Joey cheers, but Kaiba just smiles to himself. If those fools only knew what he had in store....
It's Yugi's turn, and he summons Curse of Dragon to the field once more.
Kaiba summons La Jinn the Mystical Genie of the Lamp (1800 ATK). Yugi attacks La Jinn with Dark Magician, but Kaiba activates the trap card, Ancient Lamp (Magic Lamp). Ancient Lamp protects La Jinn by drawing him into the lamp, then it deflects Dark Magician's attack back onto Curse of Dragon, destroying it. Yugi's down to 1500 life points, the same as Kaiba.
Yugi draws, saying that he still has the the Dark Magician. For all Kaiba's bragging, the score is tied. They're evenly matched. Kaiba thinks that his moves so far have all been ploys to distract Yugi from his real plan—to assemble all three of his Blue-Eyes White Dragons and combine them into the ultimate monster, the Blue-Eyes Ultiimate Dragon! (Japanese Yugi says that he fell into Kaiba's trap. He admires Kaiba's cleverness. Kaiba thinks that the real trap is coming. He's planning to bring out his strongest monster—the fusion of his three Blue-Eyes White Dragons.)
To Be Continued